Looking for a sourdough discard recipe? These sourdough blueberry pancakes are so easy to make, you'll have the recipe memorised in no time. Think, American-style pancakes— fluffy, thick, light, airy, golden, and sweet! The pancake batter is also vegan, making it suitable for anyone to enjoy. The flours can be switched up, the milk can be subbed for any plant-based milk, and the toppings are endless!
Dairy-Free Option • Nut-Free Option • Vegan Option • Vegetarian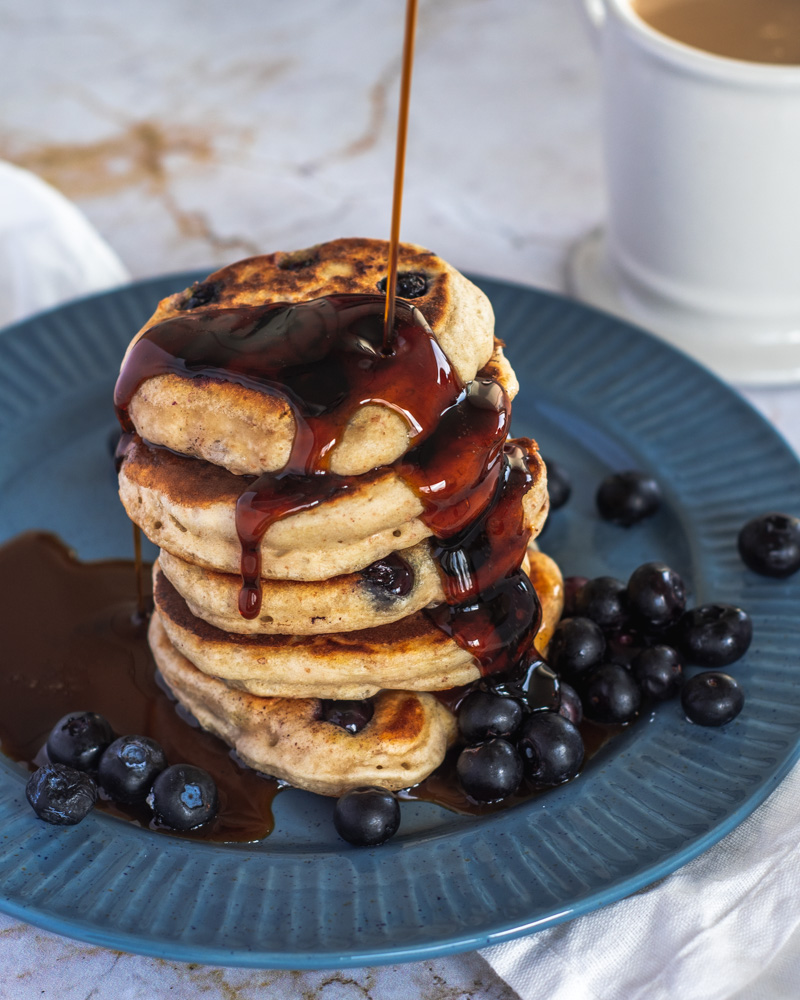 Jump to:
Sourdough discard
…what is it?
Sourdough discard or "sourdough starter" is the mixture created for making sourdough bread. It's only flour and water— that's it. But, the dough has been fermenting, creating bubbles, rising and falling while it sits on the countertop in a room-temperature environment. It's essentially "alive", which means you need to keep feeding it! Every time you feed it, you have to "discard" some or else your jar of sourdough will just increase in size and you'd have to feed it bags and bags of flour! The discard is usually just tossed in the bin, but why should it be wasted? The fermented goodness has that delicious tangy flavour that goes so well with this sweet pancake recipe!
Ingredients you need
Flour. Both plain and oat flour work similarly in this recipe. Wholemeal can also be incorporated, but it's best when only half of the flour is wholemeal because the consistency starts to change.
Sourdough discard. This ingredient is a must for tasty blueberry pancakes. This recipe works best when the discard is 1-3 days old.
Milk. Only a bit of milk is needed and it can be cow's or plant-based!
Baking powder & baking soda. Just a bit of both! See the serving size and details below (on the recipe card).
Maple syrup. The batter can taste too savoury if there isn't something to sweeten it up. You could leave this out, especially if you are adding more maple on top anyway!
Blueberries. These are a must for blueberry pancakes, but… you can definitely use another berry, of course.
Oil. This is only needed for the pan. I like coconut oil the best because it doesn't leave as much grease. You can also use any other oil or butter!
The Simple Two-step Method
There are basically only two steps to this fluffy pancake recipe. ONE— mix all the ingredients in a bowl. TWO— pour the batter onto a hot pan with some oil, drop the blueberries in, and flip. See the recipe card below for the exact measurements.
Tip 1: Cook on medium heat. If the pan gets too hot half way through, lower the temperature. You want the pancakes to get a dark golden colour, but not burnt. If the temperature is too high, the outside will burn and the centre will be remain uncooked.
Tip 2: Use a non-stick pan! You don't want to risk the pancakes sticking to the pan— it wouldn't be a great start to your morning!
Tip 3: Keep adding more coconut oil each time you add more batter to the pan. Just a teaspoon at a time!
Topping ideas
Canadian dark maple syrup (my favourite!)
Greek yoghurt (for some extra protein!)
Peanut butter
Butter
Chocolate chips, chocolate sauce, or Nutella
Honey
Crispy bacon (if you like that sweet and salty combo!)
Extra berries
More sweet recipes to try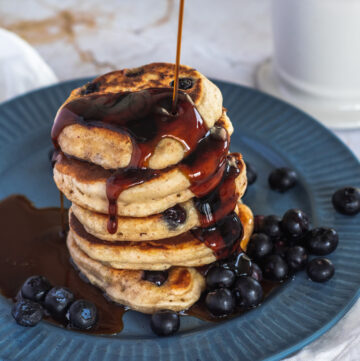 Blueberry Sourdough Pancakes
These thick, fluffy, sourdough pancakes taste delicious with sweet toppings such as Canadian dark maple syrup and blueberries!
Ingredients
80

g

flour (plain, oat, half wholemeal/half plain)

or ½ cup

100

g

sourdough discard

or ⅓ cup

60

ml

milk (cow's or plant-based)

or ¼ cup

1

tbsp

maple syrup

+ more for topping

½

tsp

baking powder

¼

tsp

bicarbonate of soda (baking soda)

2

tbsp

coconut oil

for the pan only (alternatively, use seed oil or butter)

blueberries

for the batter and the topping
Instructions
Mix all the ingredients in a bowl except the coconut oil and blueberries.

Heat up a pan with the coconut oil, about a teaspoon at a time. It should be medium-high heat, but it may need to be turned down the longer you cook (or if the pan gets too hot).

Add the batter to the pan, a little at a time. I usually make 5 small ones or 3 larger ones. Drop the blueberries in when you start seeing bubbles. Flip, and cook until golden. This usually takes a few minutes altogether, depending on the size of the pancakes and the temperature of the pan. You don't want to cook it too fast because it will burn on the outside before the centre is cooked through.

Stack them up and serve with your favourite toppings! Pictured here with maple syrup and extra blueberries.
Notes
This recipe is best with sourdough discard that's under 3 days old. 
If you have a nut-allergy, use a seed oil or butter instead.